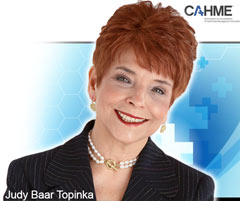 The new CAHME/Judy Baar Topinka Foundation Scholarship is now accepting applications. Judy Baar Topinka was a pioneering public leader in Illinois who was the first woman to serve as state treasurer, in addition to terms as a state representative and senator. The scholarship will recognize a graduate student focusing on health policy in a CAHME-accredited program who exemplifies Ms. Topinka's belief in hard work, ethical leadership, and perseverance. Details about the scholarship and application instructions are available on our web site. The deadline to apply is March 15, 2019.

As part of CAHME's ongoing celebration of our 50th year, we have been releasing a series of videos in the Getting to 100 series that focus on different aspects and qualities of healthcare leadership that will be needed in the decades ahead.
This week we are releasing our fifth episode, in which Kevin Mahoney of the University of Pennsylvania Health System and Joseph Gasque of GE Healthcare discuss the importance of mission-driven leadership and the role of the influencer as leader. Earlier episodes of the series have focused on community leadership, managing the 21st century workforce, and why accreditation matters. We have prepared a total of nine videos, with four more to be released in the coming months.
As a companion piece to the video series, we produced a white paper entitled Getting to 100: Preparing Healthcare Leaders for the Next 50 Years which is also available on the CAHME web site. This 10-page document summarizes the content of the panel discussion that kicked off our anniversary celebration last summer. I want to acknowledge the support of the Dawn Gideon Foundation and GE Healthcare for their support for video series, along with Business of Healthcare that provided production support. I also want to thank St. Louis University College for Public Health and Social Justice MHA program for helping to underwrite the cost of the white paper.
I encourage you to view the videos and read the white paper. They contain insights about the changing environment in healthcare and in higher education, and how CAHME-accredited programs can continue to evolve to meet the mission of preparing future leaders of healthcare.