In 2014 we lost an incredible leader, citizen, and friend in Judy Baar Topinka.
The Judy Baar Topinka Charitable Foundation is releasing the following full video prepared about Judy in honor of her wonderful life. This video is often used during presentations about the book, Just Judy, A Citizen and Leader for Illinois, for school groups, book signings, and educational conferences. Enjoy the video and remember an incredible lady.
Judy was a model for all of us demonstrating that anyone with passion, drive, and hard work can triumph in the face of great odds. Just like Judy, you can take on the establishment and make changes which are good. Like Judy, you may not always win, but you should never give up. Judy Baar Topinka's life has solid lessons for all of us today and for future generations. She is a true role model for everyone.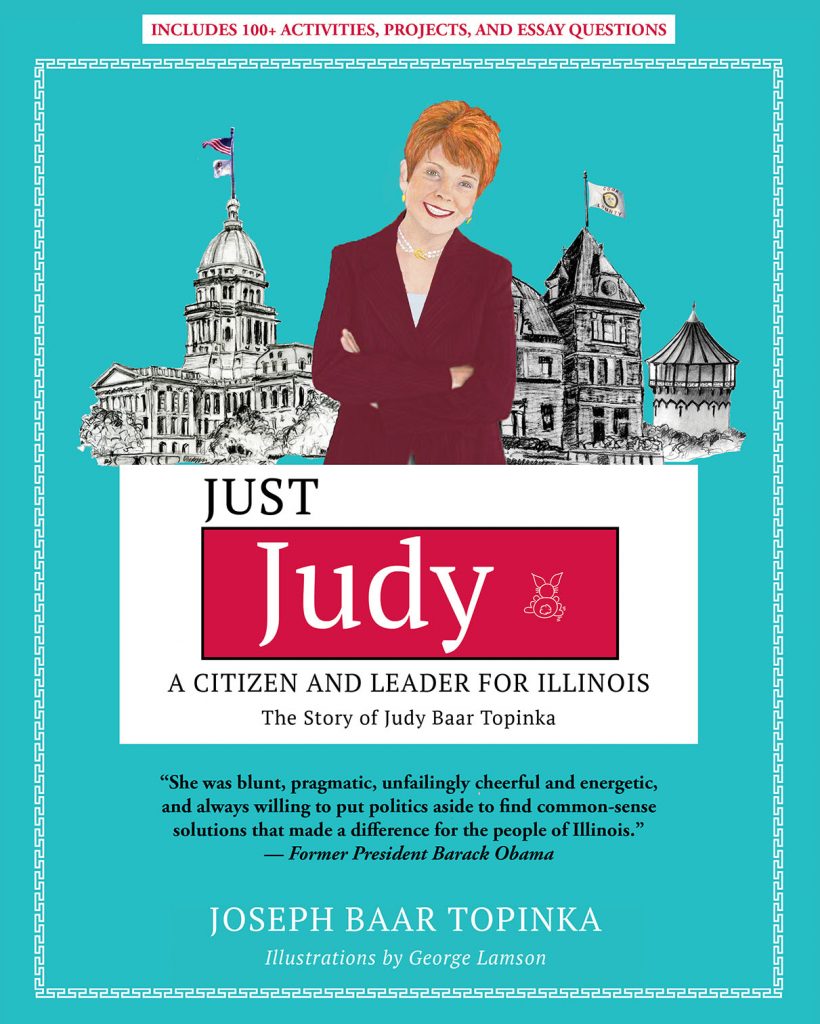 Paperback
Spring 2018 Release (March/April)
ISBN #: 978-0-9983282-2-5 (softcover/pbk.)
8" x 10", 101 pages
E-book
Spring 2018 Release (April/May)
ISBN #: 978-0-9983282-3-2 (Ebook)
Retail Price: $16.95
Publisher: Hilton Publishing Company
Publication Year: 2018
About the Book
Meet Judy Baar Topinka—persistent, creative, and dedicated to making the world a better place. Judy started out life much the same as you, going to school, growing up with friends, and embracing family. Like many today, she also had to learn the ways of a new country as a first-generation immigrant. Through education and tenacity, she placed herself on a history-making path, impacting the lives of millions during her career in public service.
In Just Judy, we watch her grow from child to adult to wife, mother, state politician, member in the Illinois House of Representatives, and finally to the office of Illinois Comptroller. She fought many battles as a pioneering woman in politics, but she persisted. Her experiences shaped who she was and what she stood for—heritage, public service, tolerance, life-long learning, honesty, respect, and courage. Just Judy captures the whole complicated challenge of staying true to yourself and will stir you to live with intentionality and make a difference in today's rapidly-changing world.
Judy was blunt, pragmatic, unfailingly cheerful and energetic, and always willing to put politics aside to find common-sense solutions that made a difference for the people of Illinois." President Barack Obama
From the Author
My hope is that when you read about Judy Baar Topinka, you will see many qualities of her character and examples from her life that you can adopt in your own life.
JUDY BAAR TOPINKA's inspiring life provides everyone—young and old, within Illinois as well as outside the state—a true legacy of good government, bipartisanship, ethics, advocacy, candor, and kindness. Demonstrating that anyone with passion, drive, and hard work can triumph in the face of great odds, her story is about a woman who took on the establishment and succeeded as no other woman had in Illinois. She didn't always win, but she never gave up, whether as a child, mother, student, journalist, legislator, or state-level leader.
---
In Our Blog
The Judy Baar Topinka Foundation is so proud of this year's CAHME/Judy Baar Topinka Foundation Scholarship.  The scholarship is designed to help graduate students as they face the ever increasing costs of being a student especially during residencies where often they are unpaid.  The Judy Baar Topinka Foundation would like to offer more types of…
Continue Reading Announcing the CAHME 2023 Award and Scholarship
Judy Baar Topinka left us too early. Today, Judy would have been 79 years old. Imagine what she would have accomplished. Imagine what she would say today about our current leaders. Imagine what it would be like if the State of Illinois, her home County of Cook, and her hometown, the Village of Riverside, ever did anything…
Continue Reading More great, virtual gifts to celebrate "JUDY DAY"