We received a wonderful letter from Chicago Mayor Lori Lightfoot's office recognizing Judy's efforts for the LGBTQ community.
OFFICE OF THE MAYOR: CITY OF CHICAGO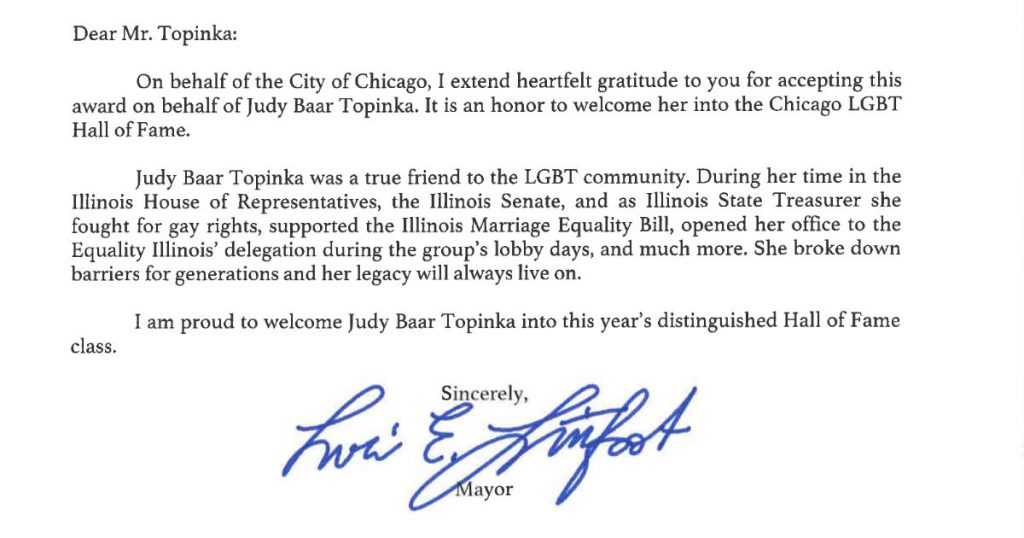 LORI E. LIGHTFOOT: MAYOR
March 17, 2021
Mr. Joseph Baar Topinka
Dear Mr. Topinka:
On behalf of the City of Chicago, I extend heartfelt gratitude to you for accepting this award on behalf of Judy Baar Topinka. It is an honor to welcome her into the Chicago LGBT Hall of Fame.
Judy Baar Topinka was a true friend to the LGBT community. During her time in the Illinois House of Representatives, the Illinois Senate, and as Illinois State Treasurer she fought for gay rights, supported the Illinois Marriage Equality Bill, opened her office to the Equality Illinois' delegation during the group's lobby days, and much more. She broke down barriers for generations and her legacy will always live on.
I am proud to welcome Judy Baar Topinka into this year's distinguished Hall of Fame class.